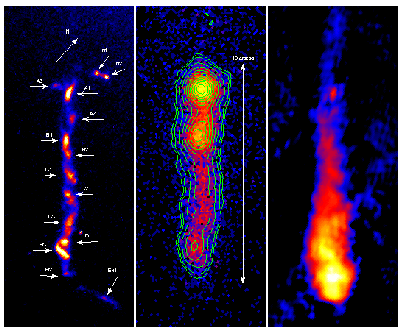 The jets and knots of this galaxy, imaged by the Hubble Space Telescope and Chandra Observatory.
Black holes of pretty much any mass can generate jets of material that shoot from their poles. These jets are so incredibly energetic that they can accelerate charged particles to a significant fraction of the speed of light. It's still not known for sure how the particles in those jets get so much energy and hence move so fast.
One popular hypothesis is the "internal shock" model, which posits that the jets are uneven and lumpy and that some particles are moving faster than others. As a result, those particles will eventually catch up with the slower ones and collide with them. These collisions not only allow energy to be transferred through the jet, but they also allow the jets to have a magnetic field, which can further accelerate charged particles.
...
Last modified on